Optimal use of space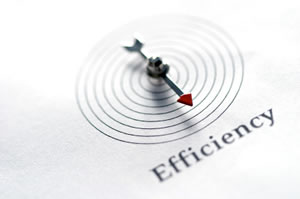 You want to serve your clients and employees optimally with a suitable real estate portfolio. But you also want to be cost efficient. D-HP helps you to map, assess and optimise your portfolio.
Different strategy, new portfolio
As a result of strategic changes, overlap or inefficiencies in your real estate portfolio can occur. A merger or acquisition may result in multiple offices in the same city. D-HP has streamlined the portfolios of several corporate clients. Our approach is to assess how real estate can support your (new) business strategy, then to review your entire portfolio.
You benefit from our experience
Wherever you are located, it pays to make optimal use of your square metres. Why would you keep that large meeting room if it is seldom used? A couple of flexible partitions would allow you to use the space more effectively. D-HP quickly identifies inefficiencies. With the help of our spatial programme of requirements tool, we can measure precisely how much space you really need for each function. To improve the efficiency of your office environment, we use three strategies:
Open work environment
Desk sharing
Outsourcing functions
1. Open work environment
An open working environment saves you space and money. D-HP has helped several corporate clients to transition towards an open work environment. We are aware of the pitfalls and frequently heard complaints from users and can ensure you avoid them. Using smart design, we help you to identify the best areas for holding meetings and making telephone calls as well as optimising the acoustics in the open space. Our ultimate goal is to enable your employees to work effectively in an inviting environment. Layout and design are key to a successful open work environment.
2. Desk sharing
Desk sharing can be a considerable space-saver. It is particularly suited to organisations with part- time workers or employees who are on the road most of the time. Our designs take the social aspect into account; a shared desk should be pleasantly personal but also encourage interaction and knowledge transfer. This means feeling at home in your workplace, even though your desk might change every day. Choosing a flex concept requires a cultural shift, but it pays!
3. Outsourcing functions
Slow-moving storage and archives are still often located in expensive office space. It pays to outsource these functions to cheaper locations. D-HP has also helped to relocate call centres, accounting and sales functions to cheaper locations. This presents a challenge to organisational infrastructure such as ITC; communication and access to documentation should of course never be compromised by outsourcing.
Want to know more?
Make the most of your space! D-HP can provide you with floor plans and 3D images, showing how much more efficient your office can be. Please contact us by filling in the form below or choosing one of the options under the 'Contact' tab.
\